About Me
Name: Ridureyu
Location: Anaheim, California, United States
Links
Doubleplus Goodthink:
People's Blogs:
Previous Posts
Archives
Thursday, September 01, 2005
Danger: A Dangerous Toy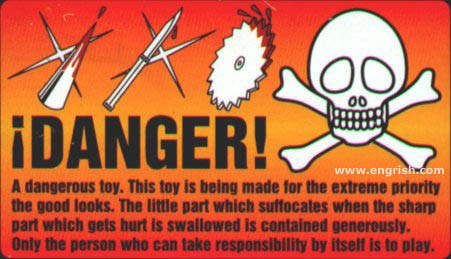 Yes, I own this toy. No, it's not dangerous.
Anyway, I have a very short rant for today, since there really isn't anything resembling a major life update going on right now. Yes, my statement is baout Hurricane Katrina. I think that anything I say to express grief or sympathy at this will only seem cheap, so I will talk about another issue:
For the Democrats:
HURRICANE KATRINA IS NOT GEORGE BUSH'S FAULT. BUSH DID NOT OPERATE A GIANT WEATHER MACHINE.
For the Republicans:
HURRICANE KATRINA IS NOT HILLARY CLINTON'S FAULT. CLINTON WAS NOT DRILLING HOLES INTO THE LEVEES FOR FUN.
For the Christians:
HURRICANE KATRINA DOES NOT RESEMBLE AN EIGHT-WEEK-OLD FETUS. IT IS NOT MADE OF ANGRY GHOST BABIES.
For the Atheists:
HURRICANE KATRINA IS NOT THE CHRISTIANS' FAULT. MOSES DIED A LONG TIME AGO. (Yes, I am aware that Moses was Jewish. Technically, so is Christianity, so there.)
And to all of you:
STOP MAKING YOUR SIDE LOOK BAD.
Thanks. Please make sure that if you donate to a charity, you donate to a charity that actually uses its money to help hurricane victims. There are a LOT of shysters running around, and you've got to avoid them.
And finally.. have you noticed that I've started picking images randomly?
Comments:
Yeah, I certainly hope a lot of people donate to right groups.
I hate it when people politicize hurricanes...jeez. I also loathe the fact that there are people playing the 'race game' over this issue. Did you catch the video of Kanye West (a rapper) with his comments? I didn't see the event on NBC, but I downloaded the video to it. Man....
Post a Comment
<< Home