About Me
Name: Ridureyu
Location: Anaheim, California, United States
Links
Doubleplus Goodthink:
People's Blogs:
Previous Posts
Archives
Sunday, September 25, 2005
Funny thing: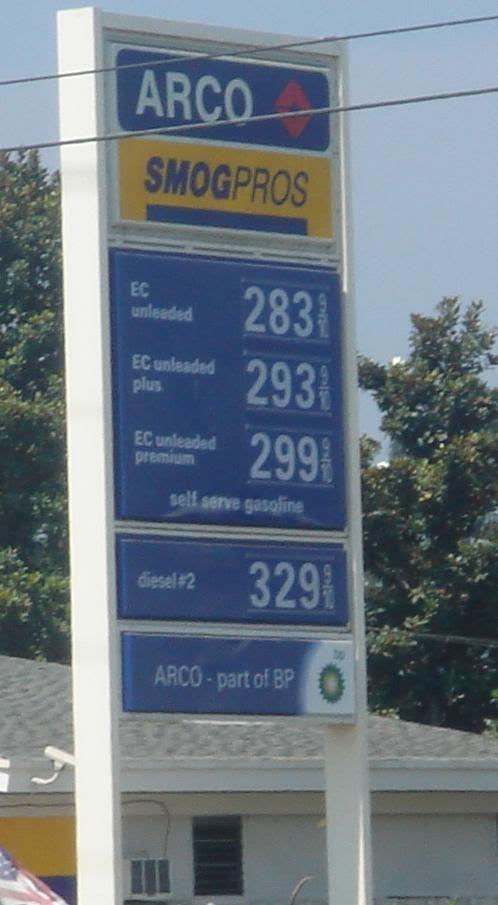 It's not every day that Anaheim, California has cheaper gas than Pocatello, Idaho.
HA HA HA!
(EDIT) it just dropped to $2.74 today.
Wednesday, September 21, 2005
Fire in the Sky
Sorry about the large images: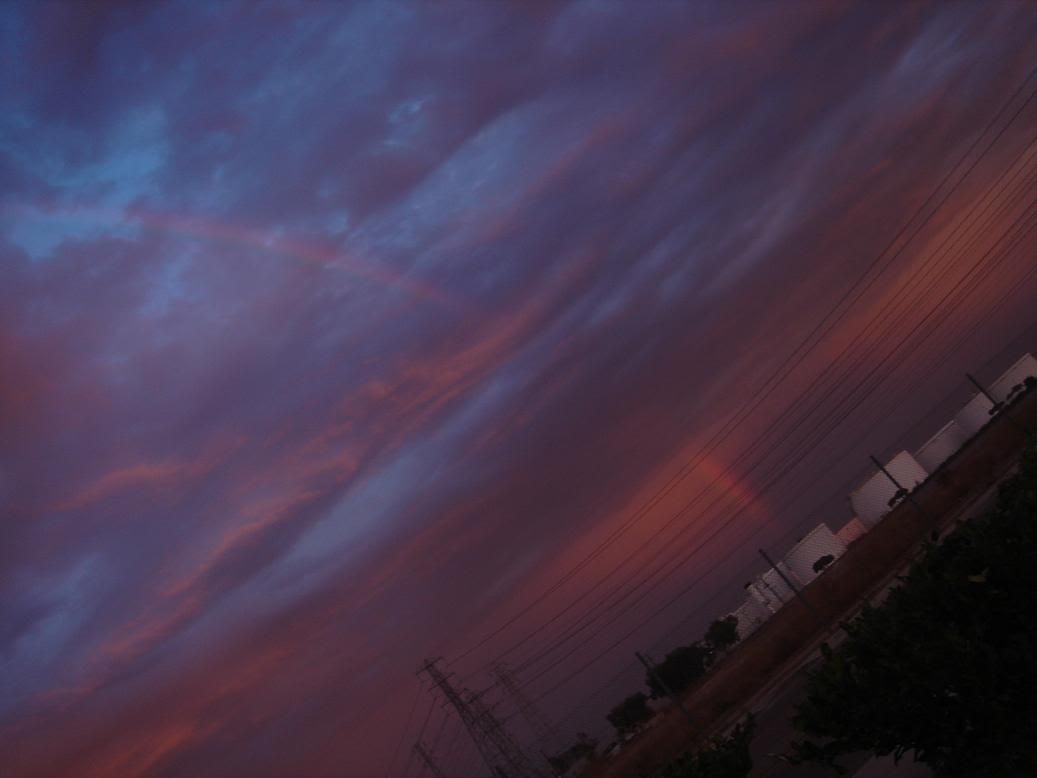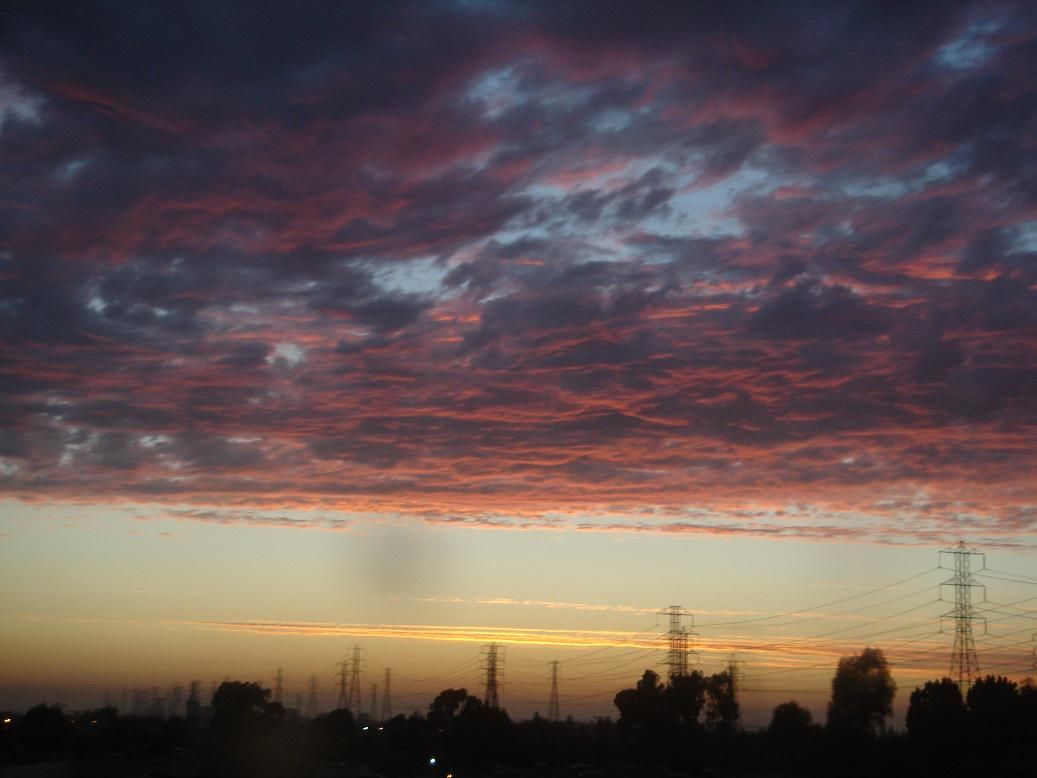 But wow, Southern California can be beautiful sometimes. It's rare when you have a double rainbow, but the rest of the sky overshadows the rainbow itself.
Of course, the thunderstorm directly after scared the wits out of my dog. He hid in the closet all night, and refused to be comforted.
Aside from this, we are finally recovering from the summer madness. By "recovering," I mean suddenly sleeping in and sounding like drunks. Just the other day, I said "zombie" instead of volume, and "sun" instead of "phone."
"I need to turn down the zombie."
"The sun keeps ringing."
Need I say more?
Tuesday, September 13, 2005
I like board games.
Just wanted to let you know.
Saturday, September 10, 2005
Machines are stupid.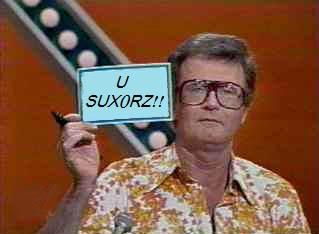 Ever have one of those weeks where you just knew everything was going to go wrong?
In the last week, the following household appliances have broken:
Our water filter
Our water heater
My computer's power cable
Our refrigerator
The toaster
Dad
In case you're wondering about the last part, my dad is so tired today that he can't go and preach tomorrow - he was basically a zombie for all of Saturday. We're worried about his health, and I think it might actually be hitting home.
Aside from that, it's been life as usual here. I climbed Mt. Baldy with an old friend who was visiting us - I plan on editing down and posting some of the images. It's really amazing that such a beautiful place exists only an hour away from the house. Of course, hiking up a steep ski slope that consists primarily of loose gravel isn't exactly the smartest thing in the world... but it's fun!!!
So, do I have anything special to add tot oday's post? Anything funny?
Just another image: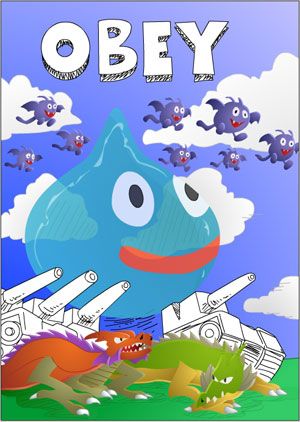 Saturday, September 03, 2005
VJ Day 60th Anniversary
For those of you who didn't know or were too distracted to realize, September 2 was the 60th Anniversary of VJ Day, when Japan surrendered and the Allies won World War 2. Nowadays, we like to complain about how nobody ever wins in a war, how we're all doomed to be blown to bits by nuclear weapons, and how America should just stick to its own borders. Let's ignore political debate and look at what September 2 means this year.
-The A-Bomb is 60 years old, and it has been sixty years since a nuclear weapon was used in wartime.
-Adolph Hitler has been dead for over sixty years. He never got to carry out his plan to rule Europe.
-It has been sixty years since Emperor Hirohito told his people that he wasn't God. Many Japanese committed suicide.
-It has been sixty years since Japan was so utterly devastated by war that America, once its enemy, pledged aid. Today, Japan is crowded and rich (recent recessions aside).
-It has been over sixty years since my now-late Grandfather got a purple heart for rescuing wounded men from a kamikazed aircraft carrier.
-It has been sixty years since France and Poland were under German Rule.
-It has been sixty years since we last trusted a communist government to be our allies. Many people have said that we were idiots because Stalin killed many, many more people than Hitler. I would like to point out that Hitler's reign was cut short, and Stalin got to rule until the end of his days.
-It has been sixty years since the last time the entire world was in open war. Not even the Islamic Terrorists have managed to accomplish this.
-Franklin Delano Roosevelt died over sixty years ago.
-It has been sixty years since America became the premier world power after recovering from the Great Depression
-It has been sixty years since the Cold War began, and people first started to seriously work on making Israel a nation again.
-And finally, it has been sixty years since Dr. Seuss drew political cartoons.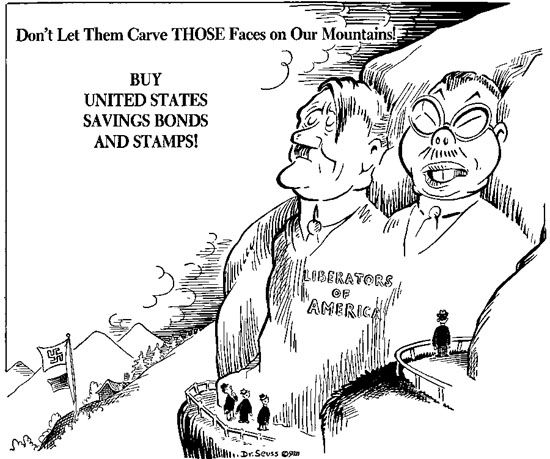 Thursday, September 01, 2005
Danger: A Dangerous Toy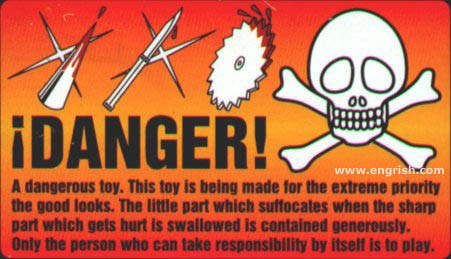 Yes, I own this toy. No, it's not dangerous.
Anyway, I have a very short rant for today, since there really isn't anything resembling a major life update going on right now. Yes, my statement is baout Hurricane Katrina. I think that anything I say to express grief or sympathy at this will only seem cheap, so I will talk about another issue:
For the Democrats:
HURRICANE KATRINA IS NOT GEORGE BUSH'S FAULT. BUSH DID NOT OPERATE A GIANT WEATHER MACHINE.
For the Republicans:
HURRICANE KATRINA IS NOT HILLARY CLINTON'S FAULT. CLINTON WAS NOT DRILLING HOLES INTO THE LEVEES FOR FUN.
For the Christians:
HURRICANE KATRINA DOES NOT RESEMBLE AN EIGHT-WEEK-OLD FETUS. IT IS NOT MADE OF ANGRY GHOST BABIES.
For the Atheists:
HURRICANE KATRINA IS NOT THE CHRISTIANS' FAULT. MOSES DIED A LONG TIME AGO. (Yes, I am aware that Moses was Jewish. Technically, so is Christianity, so there.)
And to all of you:
STOP MAKING YOUR SIDE LOOK BAD.
Thanks. Please make sure that if you donate to a charity, you donate to a charity that actually uses its money to help hurricane victims. There are a LOT of shysters running around, and you've got to avoid them.
And finally.. have you noticed that I've started picking images randomly?