About Me
Name: Ridureyu
Location: Anaheim, California, United States
Links
Doubleplus Goodthink:
People's Blogs:
Previous Posts
Archives
Thursday, July 28, 2005
Let's Have a Great Showtime!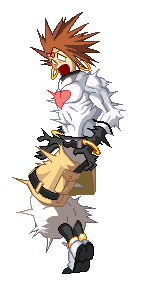 Read This Thread
I hope you have a fast connection. Remember those big posts I've made describing things like Guilty Gear or H.P. Lovecraft? This one is HUGE.
Anyway, I have finally finished registering for Cal State Fullerton. I'm paid and everything.
The Clonetrooper is doing a great imitation of how I felt at the beginning of the week concerning cleaning my room.
And yet, as of today... IT IS CLEAN.
You don't understand - while I was in college, it became a storage room. more recently, the furniture was removed. I moved SO MUCH stuff out of there, and threw out literally 10-15 heaping bags of garbage (mostly paper and cardboard waste). And IT IS DONE. DONE.
So, that's today - today was genuinely a GOOD DAY, and honestly was much-needed. I'll leave you with this image: